I'm very fortunate to work with TJX several times throughout the year.  I photograph wonderful events like charity check presentations, retirement parties and employee BBQ's.  But for the past two years, I've looked forward to one job in particular.  Each year, TJX honors those employees (or associates, as they are called at the company) celebrating special anniversaries.  TJX is a very special company to work for and they have associates who have been with them from 15  years to as many as 50 years.  These associates are celebrated when they are with the corporation every five years.  Now, TJX is a huge company.  So we're talking about over a hundred associate celebrated each year.  The company used to do a nice slide show with a head shot of each associate.  When they wanted to shake things up and make the celebration more interesting, they came to me. I proposed the idea of a video where each associate is interviewed.  The interviews would get more detailed the longer the associate was with the company.  It is a great way to get to know these special people who have dedicated so much of their lives to working at TJX.
With the sheer number of associates, this is a huge project.  My contacts at TJX arrange 8-10 shooting days on site at their three corporate offices.  They schedule each associate at a time to come in and be interviewed and we come up with a different topic for each year celebrated.  My team and I come in and set up a mobile studio to conduct the interviews.  It's a unique challenge setting up a studio that sounds and looks the same regardless of our location, but we've been able to pull it off.  With just three of us on set, we've all got multiple tasks.  I'm so lucky to have two really special people working with me.  Corinne and Randy are good friends, extremely talented and make each shooting day a blast.  And I'm equally lucky to have had Corinne D'Orsi snap some of these images while we set up and filmed.
Each day, we start by setting up a mobile studio with a high key backdrop and a two camera shoot.  We are in a different room every other day and we do what we can do insulate the space from ambient light, color and sound.  The floor is covered with white to avoid color bounce and the space is draped with moving blankets to absorb sound.  A boom mic is also very helpful to selectively pick up our subject's voice.
Perhaps, my favorite part of the day is the sound check.  This is when I insist on singing whatever song is running through my head while Randy (patiently) adjusts the mic levels.  I've also been known to make up poems on site.  I have many talents…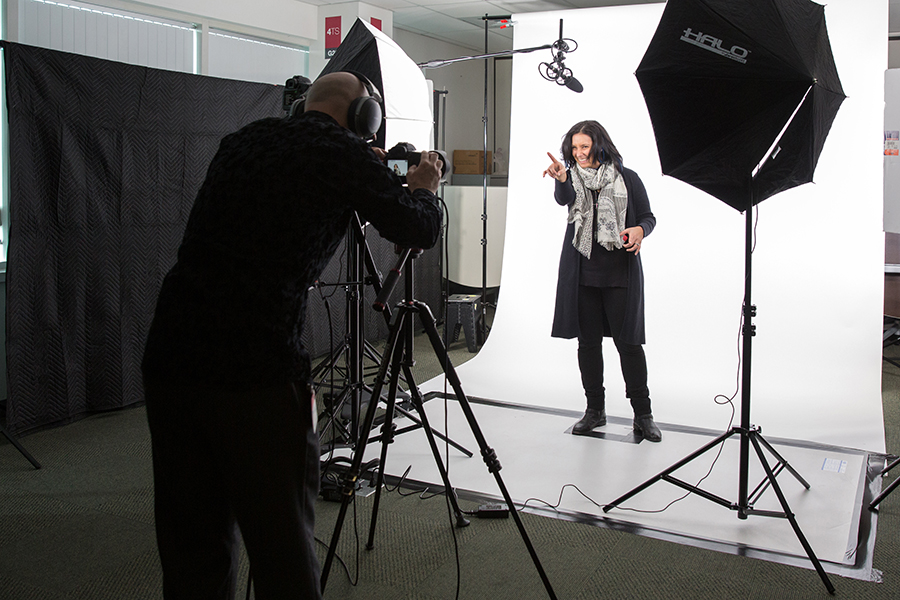 After I've had my fill of pretending I'm on "The Voice" we run through a quick equipment set up a check list and it's time for interviews.  I can't tell you how much I enjoy interviewing.  Each conversation takes a different direction and I learn so much about the associate's lives.  Associates walk into our temporary studio nervous and wanting to get the process over quickly.  But with a little encouragement, they often open up.  What is supposed to be a simple "tell us something about you" is often turned into a glimpse into some pretty intimate moments.  One associate talked about the support she received after losing a loved one.  Another talked about how hilarious technology was like in the 80's (never mind the fashion).  I'm always surprised and I'm often touched by the stories we unearth.  Inevitably, the associates exit saying how much fun they had with us.
This year's project is filmed and I'm in the process of editing.  I love that I get to re-live all these stories through the editing process.  And I'm so happy I've been able to give you a glimpse of our work behind the scenes.  My only regret is our third musketeer Corinne is not included in our images.  Luckily, I got her to film this "wrap" clip with me…